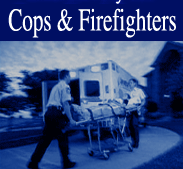 Found 6 SEEKING EMPLOYMENT Listings for New York.
Choose a different state:
~ 01/19/21 ~
You know you've been thinking about it, especially with what has been going on with the politics of law enforcement *** HOME STUDY COURSES FOR A NEW CAREER *** 1. Private Investigator License Exam Module for $399 - Operate a commercial ALL INCLUSIVE Private Investigation, Watchguard AND Bail Enforcement Agency. 2. Watchguard Agency License Exam Module for $299 - Operate a commercial Security Guard Agency. Learn the law, rules and regulations governing a Guard Agency and all the NY State paperwork involved. 3. Bail Enforcement Agency Module for $199 - Learn the law, rules and regulations governing the Bail Enforcement industry. *Notice - There is no exam to open a BEA but you will be required to take a 25 hour classroom course from a NY State registered instructor before you can open your business. 4. PI Skills Module for $199 - Learning the marketable job skills in demand in the CIVILIAN investigation world. 5. Notary Exam / Sworn Statement Module for $199 - can be taken as a stand-alone course or as an add on to either the PI Exam or PI Skills Module. Take sworn statements for court presentation... Each licensing module includes all the necessary applications and instruction AND the IRS / NYS Tax Dept information you need to set up your business in a matter of weeks. * PLUS, you will receive a lifetime of Q&A and "boots on ground" assistance. If you have a question or need back-up on a difficult case just call us. We're creating a network of licensed people who will be there to help out. For more information CALL OR TEXT... Ret. Det. 1st Gr. Marisa Valle-Zarakas @ 646-483-5519 OR Ret. Sgt. Sal Alioto @ 845-656-4027. FORTUNE FAVORS THE BOLD... BE BOLD.
---
~ 01/16/21 ~
Former NYPD PO, current Suffolk County PD PO. I am a NYS licensed real estate agent serving Long Island (Nassau and Suffolk) My team's motto is: "Full service doesn't cost full price!" For sellers: Currently giving a 25% off discount on average listing commission to ALL law enforcement, EMS, Fire and their friends and family. For buyers: Free reimbursement of home inspection performed by a NYS licensed home inspector. Andrew Spina Call or text: 516 603 8374 Andrew@soldbyspina.com www.soldbySpina.com
---
~ 12/20/20 ~
UMOS / Licensed Real Estate Agent Serving Rockland, Orange, Westchester, Bronx Buyers, Sellers, Investors Call text or email 718-440-6294 scott.severino@century21.com https://homesforsale.century21.com/agent/scott.severino@century21.com
---
~ 12/15/20 ~
Long Island Community Hospital has served this richly diverse region as a patient-first community hospital for more than 60 years. As Long Island's only independent community hospital, we are 100% committed to becoming the community's healthcare provider of choice with our greatly enhanced services including the Knapp Cardiac Care Center, our highly-advanced heart disease diagnosis and treatment facility, our new modern surgical pavilion, our unique ER approach, and our high-touch services including women's imaging, sleep laboratory and orthopedics and more. These services are delivered with the highest level of compassion by our LI Community Hospital staff – Long Islanders with an unmistakable mix of courage and heart who care about the people right here in our community and whose sole purpose is to provide personalized comfort. Responsibilities: •Patrols assigned areas of the facility and grounds on foot. •Verbally confronts/questions patients and visitors not conforming to Hospital rules and regulations and ask them to adhere to them. •Verbally confronts/questions any unauthorized individuals on Hospital grounds • Source Information: Direct Observations, inspection, Schedule review, •Responds to all security incidents and potential security incidents as notified by hospital personnel. •Takes control of all security incidents and potential security incidents as needed bring them to a safe and rapid conclusion. •Responds to all ambulance calls to aid the ambulance crew locating the patient and anything needed to safely aid the ambulance crew and their job of getting the patient to the hospital. •Responds to Dr. Heavy to take charge of crowd control and assist as needed by Nurse Manager/Administrator on duty. Qualifications: Active/Retired Police Officers High school diploma or equivalency. Successful completion of the training course, which satisfies the minimum criteria recommended by the New York State Security Guard Advisory Council. Continued education through technical seminars, workshops, etc, participation in departmental meetings, in-services, and attention to hospital memorandum. Good interpersonal skills demonstrable in interactions with staff, administrators, patients and visitors. BLS certification, de-escalation required. PLEASE CONTACT ALEXA AT AMASI@LICOMMUNITYHOSPITAL.ORG FOR ANY INQUIRIES NEW RATES HAVE BEEN EFFECTIVE IMMEDIATELY !
---
~ 12/03/20 ~
Real Estate Listing Services and Broker / Agent Referrals (New York State) Real Estate Listing Services for home sellers looking to sell the property themselves (FSBO). The cost of listing a home on the MLS is $299 with the client supplying the pictures. I am a Real Estate Referral agent / broker and have an awesome network of Buyer and Seller Real Estate Agents ready, willing and able to help you with all of your real estate needs. If you are looking to buy or sell a home and want a competent agent, I have them. We service all Boroughs of NYC and all Counties of NYS. Retired NYPD Detective Thank you in advance, George
---
~ 11/03/20 ~
Licensed Real Estate Agent / MOS Serving Rockland, Orange, Westchester, Bronx ---- Buyers, Sellers, Investors ---- Call text or email Scott at 718-440-6294 scott.severino@century21.com
---