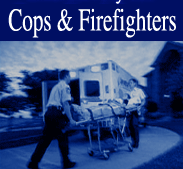 Found 4 SEEKING EMPLOYMENT Listings for New York.
Choose a different state:
~ 07/09/21 ~
I am seeking employment as a driver for your ageing parents or a young family with children. I am a retired NYC Police Detective 1st Grade, with a strong background in executive protection and security team management. Preferred area of service, Westchester, Rockland, Orange, Putham Counties or upper west/east sides. Please contact ret.nypd.detectives@gmail.com.
---
~ 07/06/21 ~
Times are CRAZY... And it doesn't look like it's going to get any better anytime soon. If you and your family are thinking that it's time for you to make a career move, especially if you have 3 years as an investigator OR you have your retirement time in at any rank, give us a call. Own your own business. Be your own boss. Inexpensive startup. *** LICENSING STUDY COURSES FOR A NEW CAREER *** 1. NYS PRIVATE INVESTIGATOR LICENSE EXAM module for $499 - 2. NYS WATCHGUARD AGENCY LICENSE EXAM module for $399 - 3. PI SKILLS module for $349 - 4. NY STATE NOTARY EXAM / SWORN STATEMENT module for $349 - 5. NYS BAIL ENFORCEMENT AGENCY module for $249 * To discuss the possibilities and for more information CALL OR TEXT... Ret. Det. 1st Gr. Marisa Valle-Zarakas @ 646-483-5519 OR Ret. Sgt. Sal Alioto @ 845-656-4027. FORTUNE FAVORS THE BOLD.. BE BOLD.
---
~ 06/24/21 ~
John Day Construction. Retired N.Y.P.D currently running a Residental construction company.We do Free Estimates in Suffolk County Long Island.Also provideing Free quotes over the phone for pool openings,Maintaince,Closeings. Please feel free to call/text John Day (631)6052235 Thank you for your time and bussiness
---
~ 06/14/21 ~
Active UMOS / Realtor Serving Rockland, Orange, Westchester, Bronx Buyers, Sellers, Investors Thinking of selling? I can run a Comparative Market Analysis to find out exactly what your home is worth. Looking to buy a home or investment property? I can help set up a search and show you any properties you are interested in. Call text or email 718-440-6294 scott.severino@century21.com
---