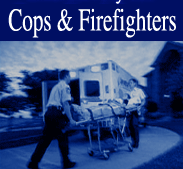 Found 1 SEEKING EMPLOYMENT Listing for New York.
Choose a different state:
~ 11/23/22 ~
Be your own boss. Start your own business. Get your NY State Private Investigator/Watch Guard Agency and/or Notary Public license OR BOTH. *** HOLIDAY SALE *** All training modules are $100 dollars off the regular price from THANKSGIVING DAY to NEW YEARS DAY. PI/WG EXAM MODULE: $600-$100=$500. NOTARY EXAM MODULE $400-$100=$300. Purchase both and receive an additional $100 off: $800-$100=$700. Sorry folks, we were hoping to get it out for this sale but the NY City Process Server exam module is not completed yet. Look for it in Spring 2023. We're going to honor this sale when it does come out, $600-$100=$500. If interested phone or text me: Sal Alioto, retired NYCPD Sgt. @ 845-656-4027 OR my partner Marisa Valle-Zarakas, retired NYCPD Det. 1st Grade @ 646-483-8862. FORTUNE FAVORS THE BOLD... BE BOLD.
---