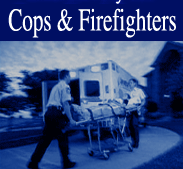 Found 4 SEEKING EMPLOYMENT Listings for New York.
Choose a different state:
~ 02/04/20 ~
Ranks Security Services is looking for a potential business partner to manage accounts and oversees all aspects of operation including advertising, scouting new clients, interviewing/hiring, training officers in the NYC area; while the current owner focus on building the business in Florida. Ranks is small security company founded in 2016, who has been inactive for a while due to current owner's military deployment. If you're interested building the company with possible ownership share, contact me at 19172170447 or ranksservices@gmail.com or jwisidore@yahoo.com THIS IS NOT A JOB, this is an opportunity to build up a licensed security business and grow with the company.
---
~ 02/01/20 ~
Need flexibility in your work schedule? Considering a career change or a way to augment your income? Want to be your own boss? Open up YOUR potential for a fraction of the cost of other business startups. PI License Exam Module for $350 - all the information you need to pass the exam and set up your business in a matter of weeks. PI Skills Module for $350 - compiled for those interested in learning the skills needed in the civilian investigation world. Notary / Sworn Statement Module for $250 - can be taken as a stand-alone course or as an add on to either the PI Exam or PI Skills modules. All our courses come with lifetime access to ask a question, raise a concern or request help. Just give one of us a call. We don't abandon you after your check clears. For more information CALL OR TEXT... Ret. Det. Marisa Valle-Zarakas @ 646-483-5519 OR Ret. Sgt. Sal Alioto @ 845-656-4027. FORTUNE FAVORS THE BOLD... BE BOLD.
---
~ 01/20/20 ~
NYS Licensed & Bonded Private Investigator available for ALL types of Private investigations (Criminal Defense, Civil & Marital). NYS licensed Armed guard-Armed Security(escorts;transports;executive protection) also available. Owner-operated company - My experience spans 25 years with a large network of active & retired federal, state, & local law enforcement on call 24/7. Competitive Rates! Contact 24 hours: VWPConsultants@gmail.com 917-693-1977
---
~ 01/02/20 ~
Retired NYPD Detective seeking/looking for a driving gig in upper east side / west side for: Young family with children and pets / Elderly couple / Single busy executive M/F. more info please send email to: retdet1nypd@gmail.com Thank you in advance, George
---