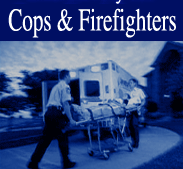 Found 4 SEEKING EMPLOYMENT Listings for New York.
Choose a different state:
~ 04/21/19 ~
Active NYPD Detective with 23 years of service with specialization in financial crimes investigations and surveillance along with corporate security management. I am seeking a lucrative side gig or post retirement career. I have additional experience with special events and driving VIP's and have class E NYS driver's license. I also will travel. If you're interested in my services, I can be reached at WyattErpis@icloud.com.
---
~ 04/17/19 ~
If you love where and who you're working for and are satisfied with the money you're making you wouldn't be on this website. Maybe it's time to take matters into your own hands? You may not have thought about it but coming from a law enforcement background you already have most of the abilities you need in order to generate impressive wages in the private investigation industry. We offer training modules for the private investigation and notary public licensing exams, two credentials highly prized in the industry. We also offer training which will put you on the path to adapting those law enforcement abilities for good use in the private sector. Look like a seasoned veteran instead of a squeaky rookie... taking witness statements, documenting accident scenes, performing surveillance, serving process and more. Interested in the possibilities? Give us a call or send us a text. Ret. Det. 1st Gr. Marisa Valle-Zarakas 646-483-5519 or Ret. Sgt. Salvatore Alioto 845-656-4027. Fortune favors the bold.
---
~ 03/08/19 ~
Retired Law Enforcement Sergeant with 4 years Armed Security Site Supervisor experience seeks part time or per diem work. No standing only posts. Queens, Brooklyn, Nassau. Can not travel to Manhattan daily. All licenses up to date. Call/text 516 532-8575 Willing to work weekends/nights.
---
~ 03/06/19 ~
Active LEO in Nassau seeking per-diem work. I have experience in surveillance, documentation/report writing & security work. I am very detailed oriented with reports, have excellent communication and investigation skills. I am certified in CPR and speak Cantonese. Call/text me at 631-682-5938 or email me at anthonyyu15@gmail.com
---