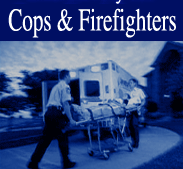 Found 3 SEEKING EMPLOYMENT Listings for New York.
Choose a different state:
~ 10/03/19 ~
Active NYPD MOS with 10+ years experience seeking part time per diem work in NYC, Brooklyn or Staten Island. Please Text 917-838-1772 with any opportunities or leads. Availble to work any days and tours. Thank you.
---
~ 09/29/19 ~
Want a new career? Need extra income? Have a crazy schedule and need work flexibility? Consider our fast, effective and low cost training modules to enter the private investigation industry. Become your own boss. Work on your own schedule. Our PI License Exam Module for $350 is compiled for those with the law enforcement or investigative experience required prior to taking the exam. This module includes all the information you need to pass the exam and set up your business in a matter of weeks. Next, our PI Skills Module for $350 is compiled for those interested in learning the skills needed in the civilian investigation world. I call this the "hit the road running" module. Whether you're eligible to be licensed or not, this module explains the nuts and bolts of the work you will be most called upon to perform. With this training you can begin earning an income in a matter of days. And, last but not least, our Notary / Sworn Statement Module for $250 can be taken as a stand-alone course or as an add on to either the PI Exam or PI Skills modules. A notary can take sworn statements. Litigation attorneys love sworn statements and will pay you a sizeable fee for them. The first statement you take could pay for this module. All our courses come with lifetime access to ask a question, raise a concern or request help. We don't abandon you after your check clears. For more information CALL OR TEXT… Ret. Det. 1st Gr. Marisa Valle-Zarakas @ 646-483-5519 OR Ret. Sgt. Sal Alioto @ 845-656-4027. FORTUNE FAVORS THE BOLD… BE BOLD.
---
~ 09/16/19 ~
Retired Sergeant seeking on call or part time gig on Long Island/Queens possibly Brooklyn or Bronx. All licenses - Armed, Pistol, AED CPR etc 4 years supervisory experience Security industry along with Law Enforcement Supervisor. Willing to work nights/weekends Bruce 516-532-8575 scosgt@aol.com call or text
---