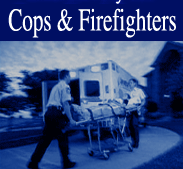 Found 3 SEEKING EMPLOYMENT Listings for New York.
Choose a different state:
~ 08/19/19 ~
FORTUNE FAVORS THE BOLD... BE BOLD. Our PI License Exam Module, is only $350 (Compiled for those with the law enforcement or investigation experience required prior to taking the exam. This module includes all the information you need to pass the exam and set up your business.) Our PI Skills Module, is only $350 (Compiled for those interested in learning the skills needed in the CIVILIAN investigation world. We call this the "hit the road running" module. Whether you're eligible to be licensed or not, this module explains the nuts and bolts of the most asked for services of PI work.) And last but not least, Our Notary / Sworn Statement Module, is only $250 (Litigation attorneys love sworn statements.) This module can be taken as a stand-alone course or with the PI Exam and/or PI Skills modules. All of our courses come with lifetime Q & A... You have a question, you need assistance or you want to discuss how to approach a case, just get on the phone... To make a purchase or to learn more: CALL OR TEXT… Ret. Det. 1st Gr. Marisa Valle-Zarakas @ 646-483-5519 OR Ret. Sgt. Sal Alioto @ 845-656-4027. FORTUNE FAVORS THE BOLD… BE BOLD.
---
~ 07/21/19 ~
I am looking for a driving gig for a small family or a retired couple or individual in upper Manhattan, Westchester, Rockland or Orange County I am retired NYC Police Detective with extensive experience in executive protection but have been working in the Health Care Medical field for the last 5 years. please text me 845 243 3114 if interested in my services or have a lead. Thank you in advance.
---
~ 06/05/19 ~
Long Island private investigation firm looking to hire private investigators in the Long Island, NYC, and Westchester area. Licensed preferred but not necessary. Must own video camera and excellent report writing skills along with experience either as a detective, former law enforcement, or private investigator. Pay dependent upon experience and comparable to other PI firms. Email info@rootinvestigations.com for an interview.
---