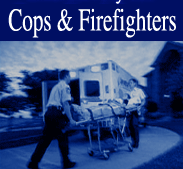 Found 2 SEEKING EMPLOYMENT Listings for New York.
Choose a different state:
~ 06/01/18 ~
Certified Security Guard Instructor seeks position at training school. I am retired from the NYS Court System and am certified by DOJ to teach both the armed and General Topics classes required by NYS. I have nearly 20 years experience teaching the 47 hour/8 Hour requalification classes as well as the unarmed 8 hour renewal. I am also a certified NRA police handgun/shotgun instructor and teach all aspects of firearm safety/self defense shooting methods. Call/contact Matt at (718) 610-9698 or temkinmatthew@yahoo.com
---
~ 04/28/18 ~
Active NYPD Detective with 22 years service looking for side gigs in either security or a field completely unrelated to police work. I worked in the Special Frauds Squad and in a precinct detective squad for many years. I have also worked sidegigs and off duty employment practically my whole career and worked in the private sector before coming on the job. Most recently I managed security in house for a section 8 REIT and worked for SiriusXM in corporate security. I am well versed, well spoken, professional and squared away with computer experience. WyattEarpis@gmail.com.
---