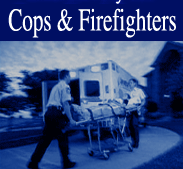 Found 3 UNIFORMS / EQUIPMENT Listings for New York.
Choose a different state:
~ 07/13/19 ~
Glock 26 with 3 magazines (2-10 round and 1-12 round) . $300. I'll throw in a couple of holsters. Great shape. Only shot during cycle. Active MOS only. Will meet at an FFL in Long Island to do the transfer. Email me if interested. Interrogo.omne@gmail.com.
---
~ 07/12/19 ~
Used NYPD Smith & Wesson M&P9 Shield Pistol 9mm ( Off Duty) in good condition Features • Extremely thin and lightweight - can be comfortably carried all day • Polymer frame with embedded stainless steel rigid chassis system • Striker-fired for short consistent trigger pull, every time • M&P's patented take-down lever and sear deactivation systems allow for disassembly without pulling the trigger • Includes 2 magazines & Holster $350 Negotiable ACTIVE OR RETIRED LAW ENFORCEMENT ONLY NO EXCEPTIONS serious reply only please call MANNY 347-762-9030.
---
~ 06/15/19 ~
I AM AN ACTIVE LEO MOS LOOKING TO BUY FIREARMS. LOCAL FFL ON HAND IN NASSAU COUNTY AND WESTERN SUFFOLK COUNTY FOR EASY, CHEAP AND LEGAL FIREARM TRANSFERS. I AM A COMPETITIVE SHOOTER WHO BUYS AND TRADES ALL FIREARMS. CONTACT ME 24/7 AT TRIGGERMIKENYC@GMAIL.COM BE SAFE OUT THERE!
---