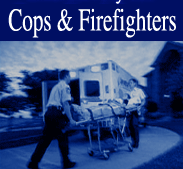 Found 4 UNIFORMS / EQUIPMENT Listings for New York.
Choose a different state:
~ 12/12/17 ~
For sale To active or retired MOS S&W 5946 9mm comes with 3, 15 round mags 1 shoulder holster and 1 pancake holster $400 if interested e mail me at faganpi@aol.com
---
~ 11/28/17 ~
Long ECT/ESU Jacket, Navy Blue purchased at Parks. Jacket is in great condition, well maintained. No damage. Jacket includes NYPD should patches, ECT collar patches, Police breast patch and rear evidence collection patch. $50.00 email robert.sirignano@nypd.org
---
~ 09/23/17 ~
Selling AR-15. Never used. Palmetto state armory ar15 1:7 twist. Magpul accessories. Comes with two 30-round MagPul magazines as well as 140 round Magpul magazine it also comes with a rear pop-up sight Magpul. Currently installed on it is a iron sight/ carry handle. It also includes and LA police gear rifle case. Only selling to active MOS. 600. Obo Call or text 347-243-6748.
---
~ 09/19/17 ~
Active NYPD UMOS selling Glock 27 3rd Gen 9mm, comes with 3 magazines, original case, 2 off duty holsters in excellent condition.SALE PRICE $399. I WILL ONLY SELL IT TO ACTIVE OR RETIRED LAW ENFORCEMENT No "Exceptions", serious replies only, Manny cell 347-762-9030.
---